Simple Estate Planning for $225
Estate Planning Made Simple and Affordable
Now is a great time to plan--you have time!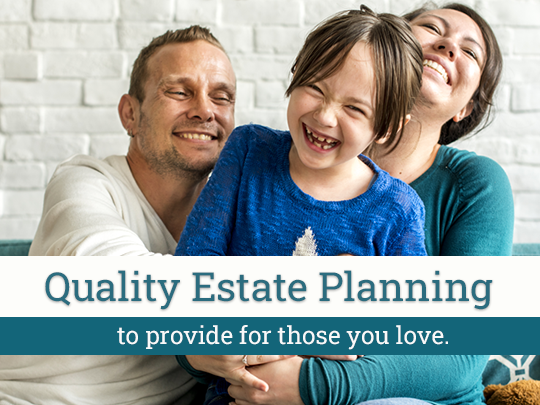 Many Michigan residents have time on their hands as we go through the 2020 Corona Virus or COVID-19 "Stay Safe--Stay at Home" order from Governor Whitmer. You probably already have your house as clean and organized as it has been lately, but do you have your future financial plans clean and organized? Have you done your estate plan?

If this offer is right for you, get started today!

Either call our offices at 616-235-6000 or use our contact page and we will get started. Get trusted estate planning, and how.


Special Offer (until June 15, 2020)
We will do your simple estate for $225 for either a single person or a couple who have common plans. This plan will include the following:
a simple will that provides



for married couples

everything to your spouse if you are the first to go if you are couple
divides things equally among your children if both spouses pass
specifies the guardians for your children if you are no longer able to care for them



for a single person

specifies who will receive your assets, up to three persons or classes of persons



for everyone

specifies who will manage the business affairs of your estate if you pass away
allows for the payment of your debts
makes administration of your estate much easier than if you die without a will because your wishes are known



a durable power of attorney

This document allows someone else to manage your business affairs if you are either disabled, or it is just more convenient for them to take care of business



a medical power of attorney  (also  known  as  a patient  advocate  designation)

This document allows someone else to manage your medical affairs if you disabled
It includes a HIPPA release so that your loved one or trusted adviser can freely consult with your medical professional



a living will (also known as an end of life directive) in case of terminal illness


specifies if you want exceptional medical procedures to prolong life
specifies if you want to be resuscitated
specifies if you want to be tube fed or hydrated
provides whether you wish to receive pain relieving medication even if that shortens life
Your Estate Plan Does NOT Require an In-Person Meeting
We are able to complete the process electronically, including several initial contacts for planning purposes and to gather information. The actual signing can be done electronically at this time, including any necessary witness and notarization signatures.
Is a Simple Plan Right for Me?
We will work with you to decide if this is the right solution.
It is not right for some people. Here are some typical reasons it may not be right for you:
You want to avoid probate proceedings
You need a trust
You have special needs or disabled family members
You have blended families and want to provide some assets get to each of the families after your death
You have a sizable estate
You are concerned that children will get funds immediate at age eighteen ... if this is your concern see our will with minor trust provisions below.
Even if our simple estate plan is not right for you, we have affordable, custom, personally planned, options for you and your family.
To get started, either call our offices at 616-235-6000 or use our contact page and we will get started.
Will with Trust to Manage Affairs for Minors
If you have minor children there are benefits to assuring that assets will be managed for them until they fully mature. If this is your desire, we offer an enhanced simple will with a minor trust for $500. This type of trust is funded from your will. Unlike common wills that will avoid probate entirely your estate is still probated and the trust will assure the following:
that all assets will be available in a single pool until your youngest child is a college senior (or equivalent trade or vocational school level)
provides incremented payment of principal to the kids until they reach financial maturity, rather than a lump sum at age eighteen
allows for a separate financial manager or trustee other than the guardian who cares for the children
Unlike lifetime trusts (sometimes called intervivos trusts), because funding does not occur during your lifetime, it is a much easier planning vehicle. Creation of a lifetime trust requires re-titling of assets into the trust. This does not. For people who are healthy and simply doing worst case planning to assure best case outcome, this solution is a great solution for people with minor children.
To get started, either call our offices at 616-235-6000 or use our contact page and we will get started.